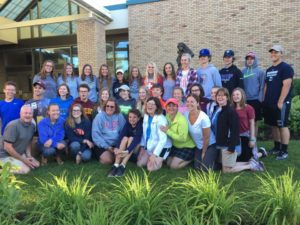 Youth Ministry at St. Victoria provides opportunities for youth in middle school and high school to grow in their faith through events focusing on Scripture, service, fellowship and friendship in Christ.  Watch our website and bulletin for information about upcoming events and also visit our Facebook page.
Mark Your Calendars!
Click here for all of the youth ministry event information and sign ups.
Youth Mission Trip
Blue Ridge Mountains, North Carolina
July 20-29, 2018
Mission Trip Information & Registration

Questions?  Contact Ann or Theo.
Ann Esping, Assistant Director for Youth Formation, 952-443-2661 x202  Email Ann
Theo Chalgren, Youth Formation Leader, 952-443-2661 x221  Email Theo